over 1,700 BIKES
Number of Postbank branded bikes nationwide
approx. 85,000 USERS
were on the road with Postbank branded nextbikes
over 200,000 RENTALS
were generated with Postbank nextbikes
19 CITIES
Number of nextbike cities with branded Postbank bikes
12 % MORE NEXTBIKE USER
have deposited their Postbank account with us as a means of payment
8,4 TIMES
The Postbank nextbikes were used to cycle around the world.
Advertising partners benefit from the sustainable image associated with bike sharing.
Postbank started its cooperation with nextbike in June 2020 to further their commitment to sustainability and actively work towards eco-friendly mobility, as well as advertising their checking account. Out-of-Home there were over 1,700 rental bikes carrying Postbank branding in nearly 20 cities all over Germany until September 2020. Additionally, the cooperation offered incentives for customers as well as employees.
In addition, there were incentives for bank customers and employees during the campaign period: nextbike users who deposited their Postbank Giro account (IBAN) as a means of payment received the monthly rate, which included a 30-minute flat rate, free of charge. At the same time, there was free access to our nextbike bike sharing system for all employees. Like customer loyalty, the focus was on acquiring new customers. It was also an attractive CSR measure for employees and contributed to positive employer branding.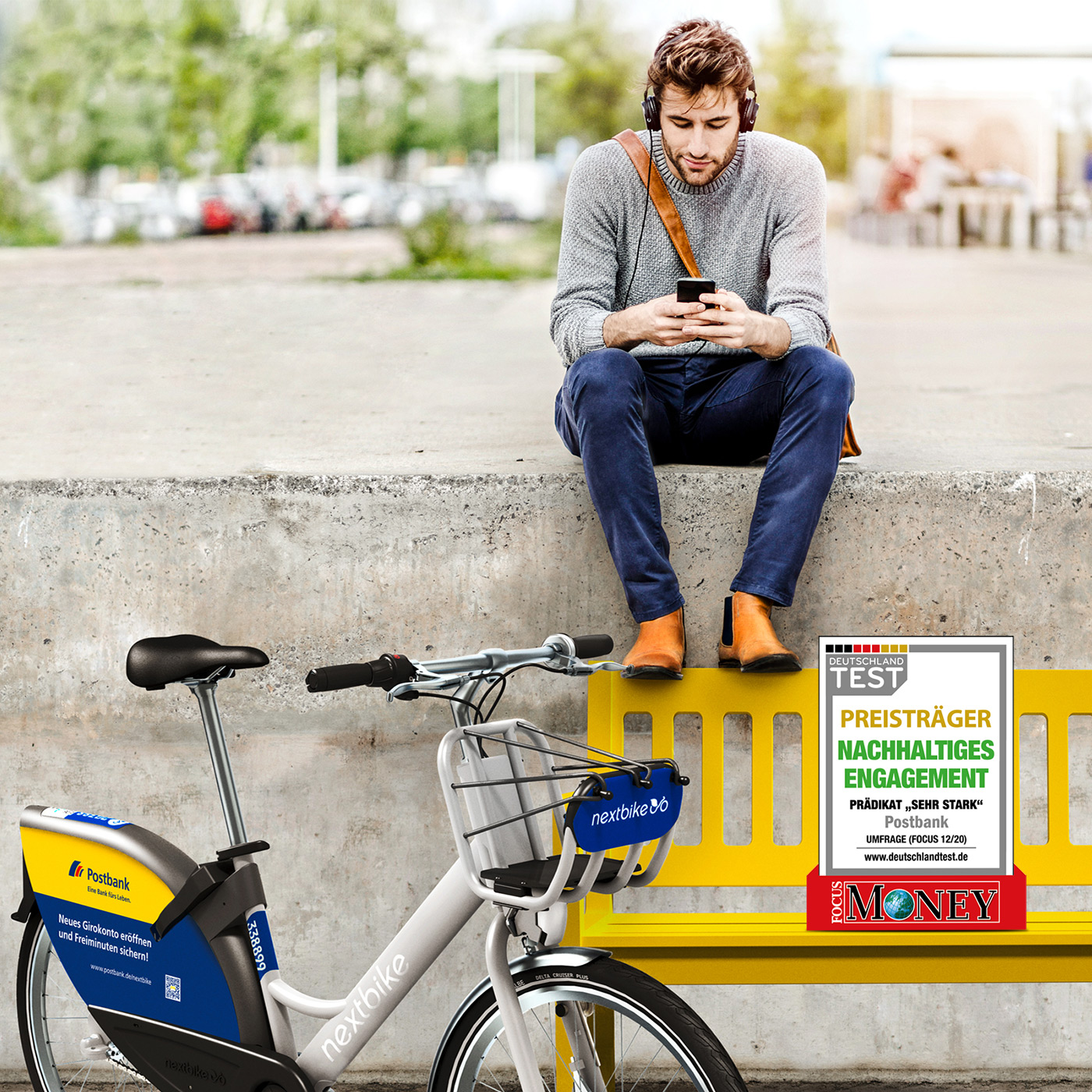 "The collaboration with nextbike has brought us and our customers real added value. In particular, the combination of mobile outdoor advertising and benefits in form of free rides is unique from a marketing perspective and also fits in with our sustainability strategy.

Margret Dreyer

Head of Marketing Private Customers Postbank
INDIVIDUAL DESIGN
Over 1,700 nextbikes in individual Postbank design in 19 cities across Germany.
USE OPPORTUNITIES
High-quality printing of the ad panels and cross-media campaign expansion through Postbank ad banners in our app.
Out-of-home campaigns extended cross-medially
MOBILE ADVERTISING
The campaign was extended in the nextbike app and placed in the direct field of interest of the customers: From digital ad space on the home screen to curated content and push notifications.
CROSS MEDIA MARKETING
The whole campaign was flanked by dialogue measures in social media and classic press work. The result is more than a simple out-of-home campaign but a complete solution for sustainable advertising online and offline.
You want a similar campaign? Get in touch with us and together we will successfully get your campaign on our wheels and into our online channels!