Bike sharing from a single source
We respond dynamically to the needs of smart cities and provide our partners with individually tailored solutions.
Station based systems
Bikes are available at fixed stations, which can be identified with a terminal.
Station based systems
Raise additional attention with a terminal or SmartSign to increase public awareness.
Free floating
Bicycles can be rented and returned on any public road within a defined zone.
Free floating
This system gives customers maximum flexibility.
Hybrid-System
A combination of both systems offers to the customer maximum flexibility. This system offers the best possible availability as well.
Hybrid-system
Hybrid systems are ideal and combine all possibilities: A free-floating area in the city center and rental stations at highly frequented locations.

Smart bikes for smart cities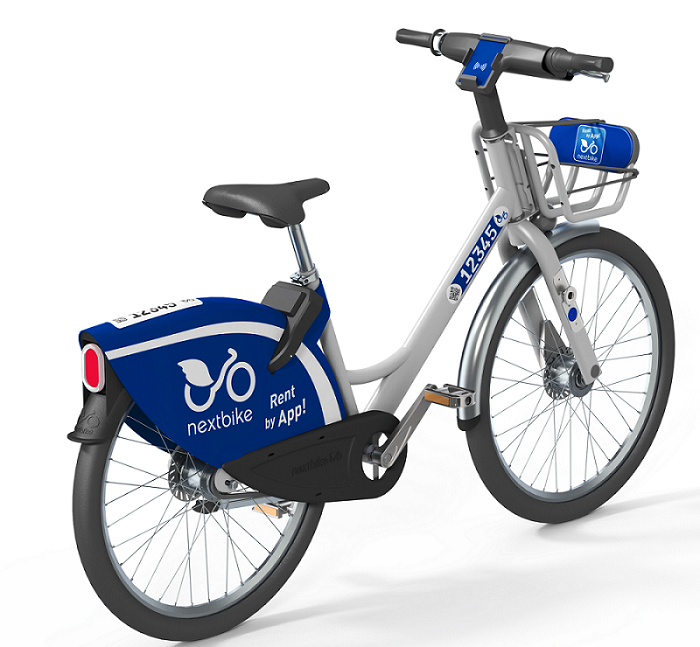 Shimano hub gear
From 3 to 7 or 8 speeds
LED back and front light
Both with integrated reflector
FrameLock
With Bluetooth and GPS, unlocking via smartphone
Cushioned seat
Height-adjustable with anti-theft protection
Frame
Internal wiring in the frame and handlebar as protection against vandalism
Mobile phone holder
With RFID reader for Smart Cards and e-tickets (NFC optional)
Fork Lock
With docking adaptor
Air tires
With puncture protection and reflective stripes
Our bike types
We offer 4 different bike types. 2 analogue and 2 electrically powered variants with an high-performance Brose motor made in Germany.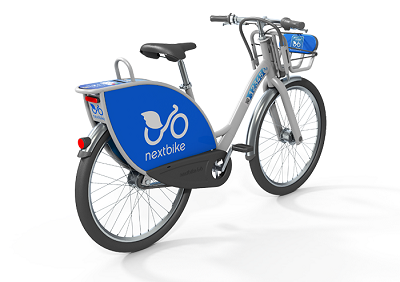 The SMARTbike can be ideally integrated into public transport. Equipped with RFID/NFC readers for smart cards, an intelligent board computer with keyboard and display, as well as a fork lock, it can be used in many ways and is ideally suited for both station-based and free-floating schemes.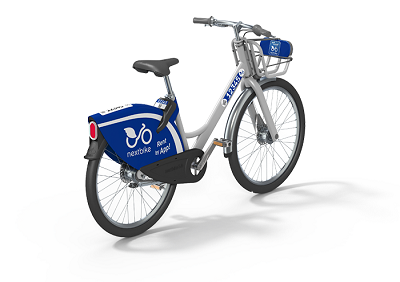 The SMARTbike 2.0 is our latest model. With its innovative frame lock which supports GPS, GPRS and Bluetooth, it is ideal for free-floating schemes. The QR code on the lock enables quick and easy renting via scan or other nextbike channels.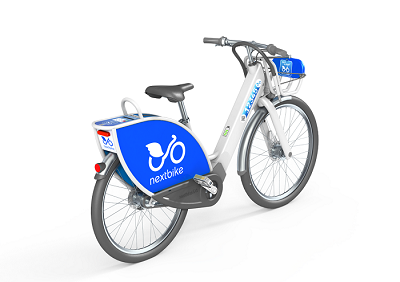 The e-SMARTbike is available with a board computer and optional fork lock. Just like the other e-bike variants, it has a powerful Brose motor with support up to 25 km/h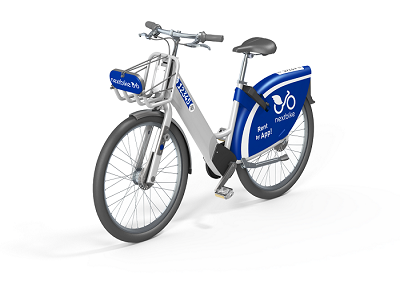 The e-SMARTbike 2.0 is the latest e-bike from nextbike. It is efficient and lightweight. Equipped with a FrameLock, it is also particularly suitable for free-floating schemes.
Founded in Leipzig in 2004, nextbike has grown to become one of the world's leading manufacturers and operators of bike share schemes.
Started as a small bike sharing provider, nextbike has developed into a technology-driven company. Today, our bikes and IT infrastructure are state-of-the-art with technologies such as NFC, GPS, RFID, solar energy and mobile payment solutions.
Everything under one roof
nextbike develops and produces everything in-house, from the software to the bikes. This allows us to work quickly, flexibly and cost-effectively.
All products - from hardware to software - are designed and developed by us and are compatible with each other. This approach enables us to meet individual needs in a cost-efficient way.
Public transport integration
We offer the infrastructure to integrate bike sharing into public transport.
Our bikes and terminals are equipped and compatible with all Smart Card standards. Through tariff integration your customers can benefit from free minutes of usage.
Our white label solutions make bike sharing part of your offer.
Close gaps in the mobility network with bike sharing.
Together we optimise the station network and the bike fleet in the long term.