OVER 5.000 BIKES
Amount of bikes in the Berlin fleet, all with EDEKA branding.
OVER 200.000 ACTIVE USERS
Travelling sustainably in the Berlin nextbike system.
OVER 950.000 RENTALS
On EDEKA nextbikes in 2021.
OVER 350 STATIONS
Number of nextbike stations in Berlin.
OVER 290.000 KILOGRAMS CO2
saved by EDEKA and nextbike in Berlin in 2021.
46 TIMES
around the world, travelled on EDEKA nextbikes in 2021.
Advertising partners benefit from the sustainable image associated with bike sharing.
As the exclusive sponsor of nextbike Berlin, EDEKA is now a presence in all aspects of the Berlin Bikesaring scheme. EDEKA now holds a permanent space at all touch points such as app, bikes, stations and service vehicles. Through this close alliance we are abled to lastingly shape the Berlin cityscape and target a financially strong and mobile young audience. With EDEKA stores functioning as return stations with free ride incentives, we can stteer traffic to these locations and drive up customers. With special promotions for extra credits we can further impact customer acquisition and retention.
The cooperation with nextbike helps companies to lastingly change their image by furthering their corporate responsibility goals. So far EDEKA was abled to reduce CO2 emissions by 160.000 kilograms with our help. Furthermore, people that don't own a bike get the chance to do some good for the environment. Another benefit, when shopping, you won't waste any time looking for a parking space.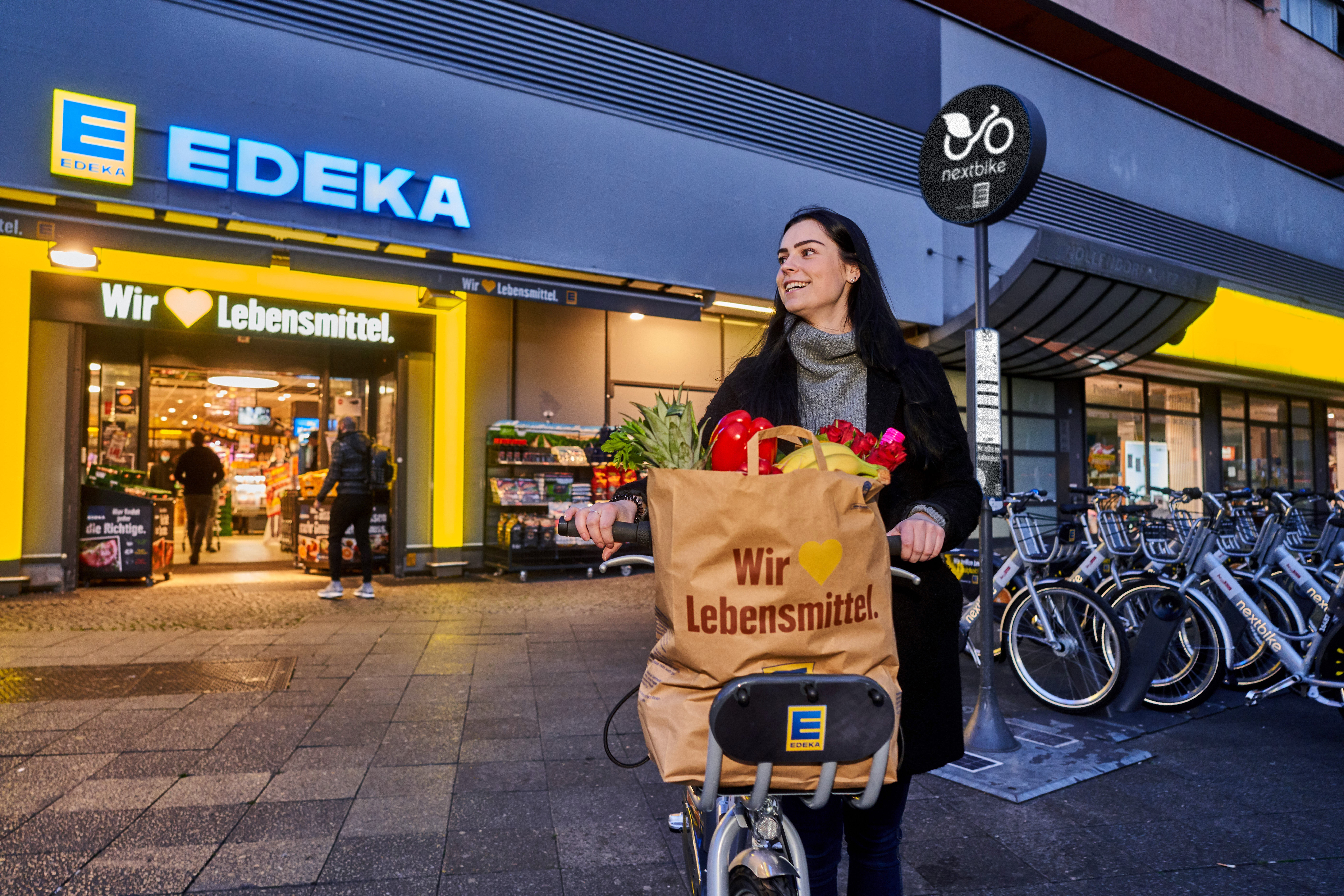 "With our nextbike cooperation, we enable Berliners to shop conveniently and easily by bike in the capital, and to do so in a sustainable way.

Hans-Ulrich Schlender

EDEKA sales manager
INDIVIDUAL DESIGN
The Berlin Fleet with over 5.000 nextbikes in distinct EDEKA-design.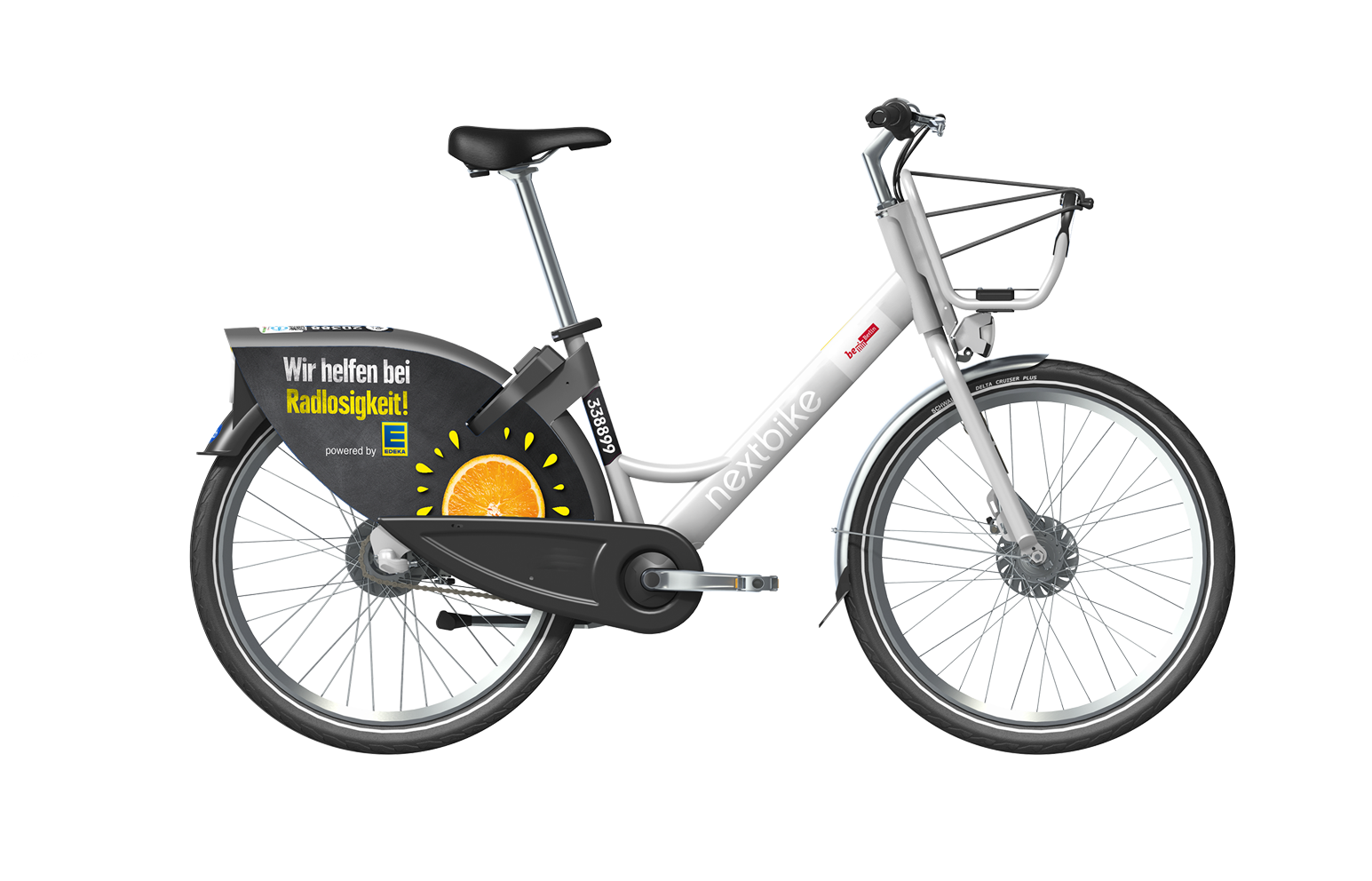 USE OPPORTUNITIES
High quality branding with city wide visibility as well as a cross medial campaign extension through advertorials and banners within our app.
Out-of-home campaigns extended cross-medially
MOBILE ADVERTISING
The out of home campaign on the bikes is extended within the nextbike app and placed directly within the field of interest of the consumer: starting with the EDEKA tagline in our header , over digital ad space on the home screen, curated content and push notifications, EDEKA is a constant presence in our nextbike Berlin app.
CROSS MEDIA MARKETING
The whole campaign is flanked by dialogue measures in social media and classic press work. This way we can create much more than a simple out-of-home campaign, but an end-to-end solution for sustainable advertising online and offline. Nextbike is also present on mailer campaigns and in the stores of EDEKA Berlin.
You want a similar campaign? Get in touch with us and together we will successfully get your campaign on our wheels and into our online channels!